I discovered that it can be challenging to find a costume for a teenage girl. Let me rephrase, it can be challenging to find an
appropriate
costume. Halloween is an excuse for some women and teenage girls to turn innocent fairy tale characters, like Red Riding Hood, into little floozies. This Halloween Kylie wanted to dress up and look nice doing it. After scouring the internet for ideas, we settled on Little Red Riding Hood. Who wouldn't want to wear an awesome cape like Red?! Plus, Kylie has been watching "Once Upon A Time" so she was psyched to dress like a fairy tale character. We did a simpler version of Red than in the show, but fabulous nonetheless.
I used the hooded cape sewing instructions from
Natalie at Doodlecraft
. I bought 3 yards of crushed panne velvet fabric from JoAnns. After my coupon, it only cost $12. Following Natalie's instructions, I used one of my jacket hoods to make an outline and then enlarged it by about 3 inches on all sides. I used the remainder of the fabric for the length of the cape.
The hood is big but that's exactly what we wanted. It looks awesome when it's hanging down her back and billows a bit when she has it on her head.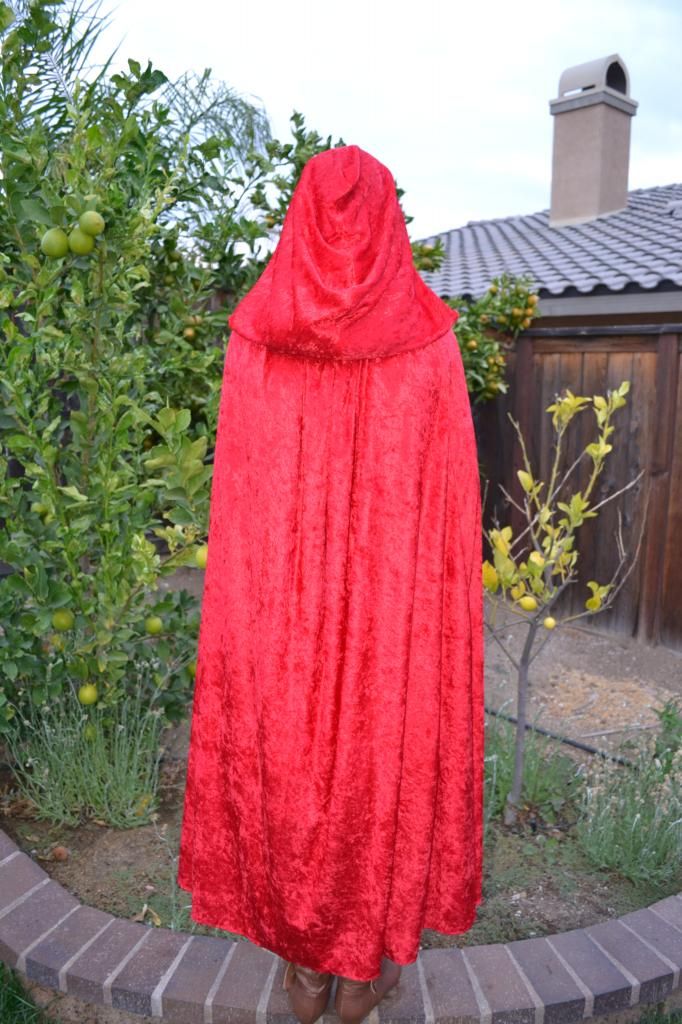 I also found this clasp at JoAnns. The intricate design adds some interest to the cape. Also, it's just cool.
We found a simple, cream-colored dress at Forever 21 for $20. Normally, I wouldn't spend that much on a Halloween costume for one night, but Kylie will be able to wear this dress to church so she'll get plenty of use out of it. The dress was a little short for my liking, though. Our solution...add lace to the bottom. I used the wide lace so it added about four inches to the length.
I bought the basket at Salvation Army for $2 and spent another $2 on red and white checked fabric to line it. Kylie used it to keep her candy in while trick-or-treating.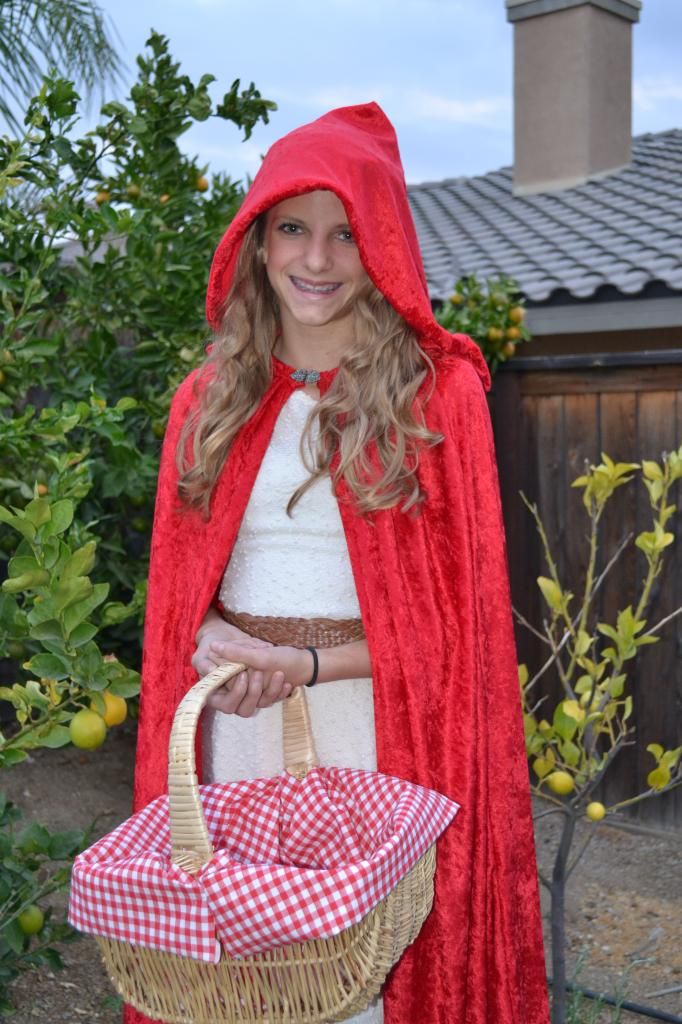 For her hair, we tried Cute Girls Hairstyles'
no-heat paper towel curls
. They worked really well! Kylie's hair does not curl easily. We rolled her damp hair up in the paper towels before she went to bed and in the morning it looked like this...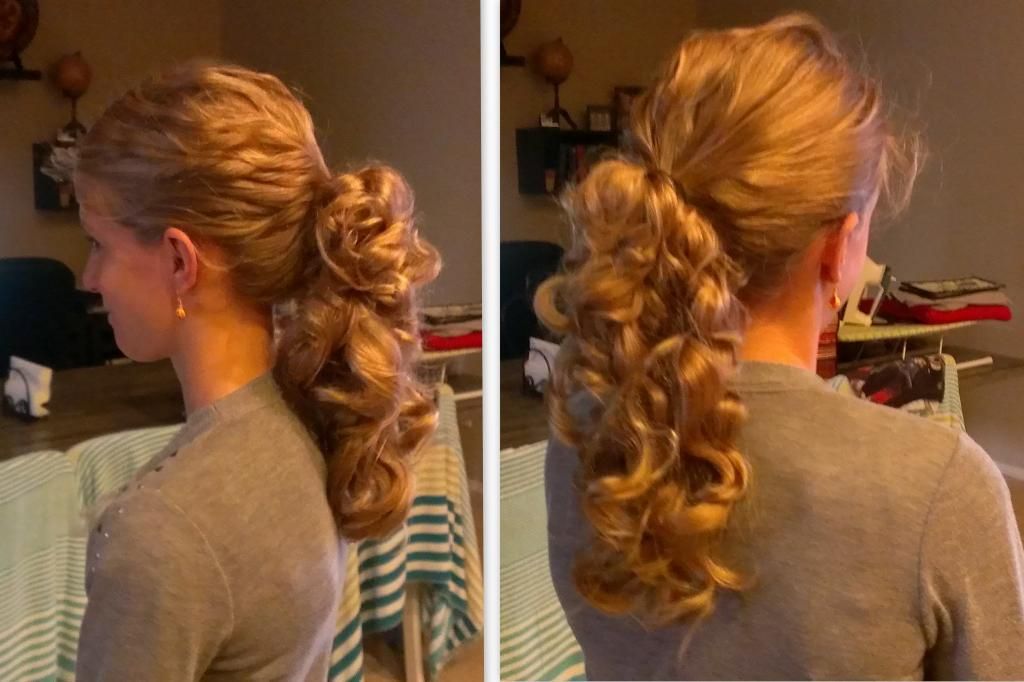 Even after a full day at school, including running in P.E., her hair had enough curl left for her transformation into Little Red Riding Hood that night. I did two rope twists on each side and pulled them back and tied them together with a red ribbon.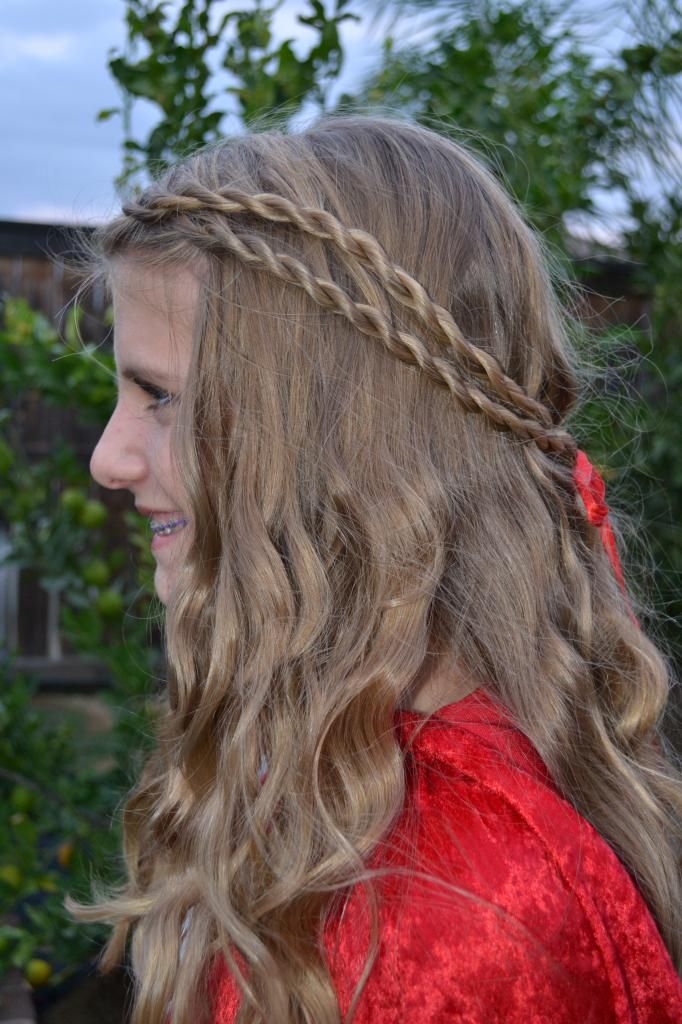 This was a fun costume to make and Kylie was excited to wear it, which was the best part. She made one beautiful Red Riding Hood.