Our ward Pioneer Day celebration was yesterday. At a park. Where it was 99 degrees in the shade. Staying in my air-conditioned house on my comfy couch was looking pretty good. Justin had helped organize the event though, so I bucked up and drug myself to the park. Not only that, I even entered a pie in the pie contest. I think I earned enough bonus points to skip the ward Christmas party this year ;)
The heat zapped any ambition I may have had to tackle a traditional pie crust so I opted for a graham cracker one. I had a little inside info on the judges' pie preferences. Justin likes berry and Andy likes rhubarb. After a little Google searching, I found a simple
strawberry rhubarb pie recipe
. Sure to win two of the judges over. I have to say this is a very tasty pie!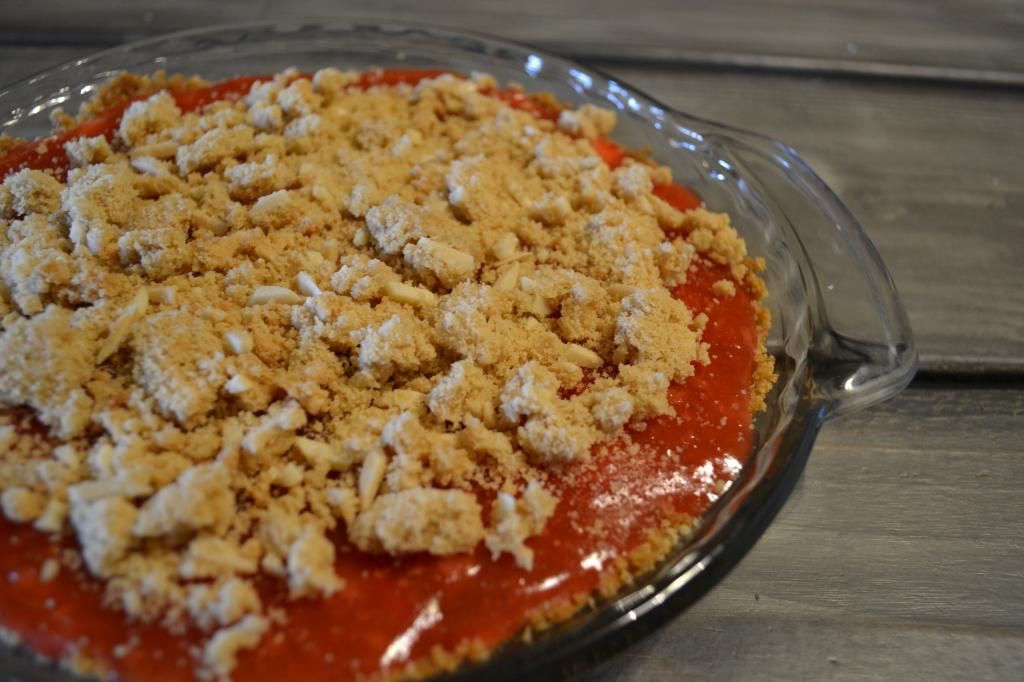 The judges gave prizes to the top four pies and my pie was one of them! Okay, so there were only eight pies, but, hey, not bad for my first pie contest. Justin said he would've awarded me first place if they had one. He may be a little biased though.
The crumble topping I adapted from a different pie recipe. I thought it would add a little crunch and made it look appetizing, too. Here's my version of the almond crumble topping:
1/2 C. flour
1/4 C. brown sugar
1/8 tsp. salt
3 Tbs. butter
1/4 C. sliced almonds
Mix all the ingredients together. I spread the crumb topping out on a small cookie sheet and baked it for 20 minutes at 350 to give it a little crunch. This recipe makes enough crumb topping for probably four pies. I saved my leftover topping and put it in the freezer to use on a future pie. Since I'm an award-winning professional pie maker now.
Oh, and serve this delicious summer-time dessert with whipped cream. Enjoy!