This year we headed up to Las Vegas to have turkey with my sister and her family. And I discovered the best Toys R' Us to do Black Friday shopping at. The line to get in was short, the line to pay...well, there wasn't one...and the employees and other shoppers were polite and helpful. But, I should start with the beginning of our trip.
On Wednesday we decided to hit the strip. Justin was feeling lucky. Just kidding. We visited the M&M Factory and watched their 3D movie and bought the world's most expensive M&Ms.
I'd never tried the raspberry ones and they were pretty tasty.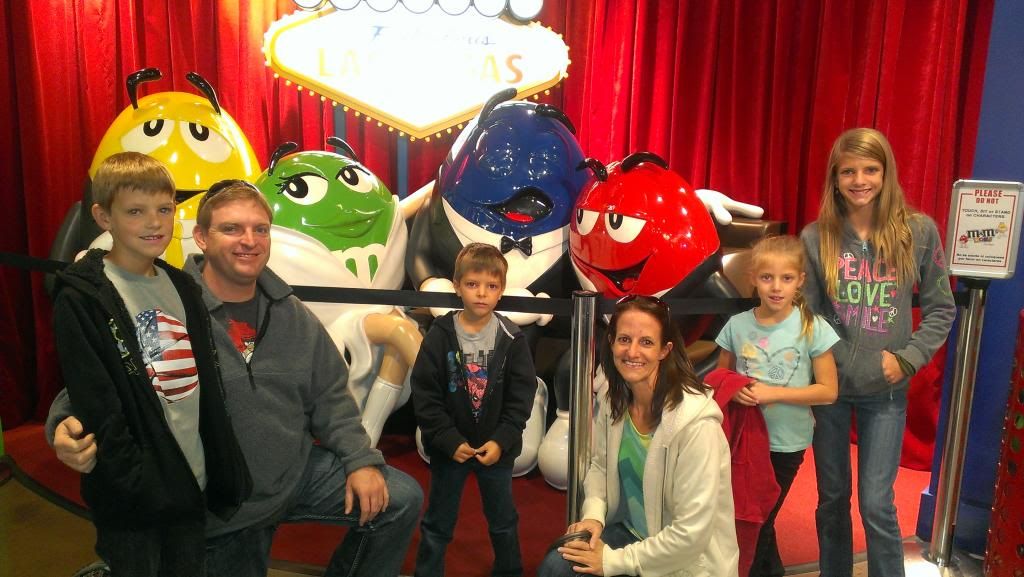 We made the mistake of walking down to the Venetian. It was a loooong way, plus, I'd forgotten about all the weird stuff you can see along the way. It would've been better if we hiked back to our car and drove down. Once at the Venetian we rested our weary feet on a bench and watched a woman stand like a statue. That's got to be one of the most boring jobs ever.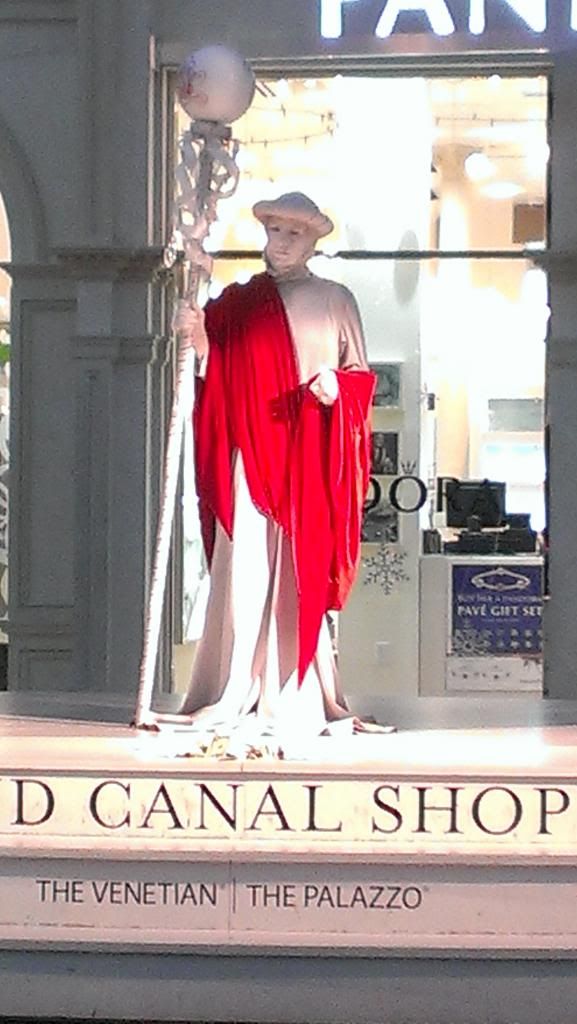 She was replaced by the much more exciting juggling man on stilts and opera singers. They sang a Christmas song in English, which was fun.
There was also the canal with the gondoliers.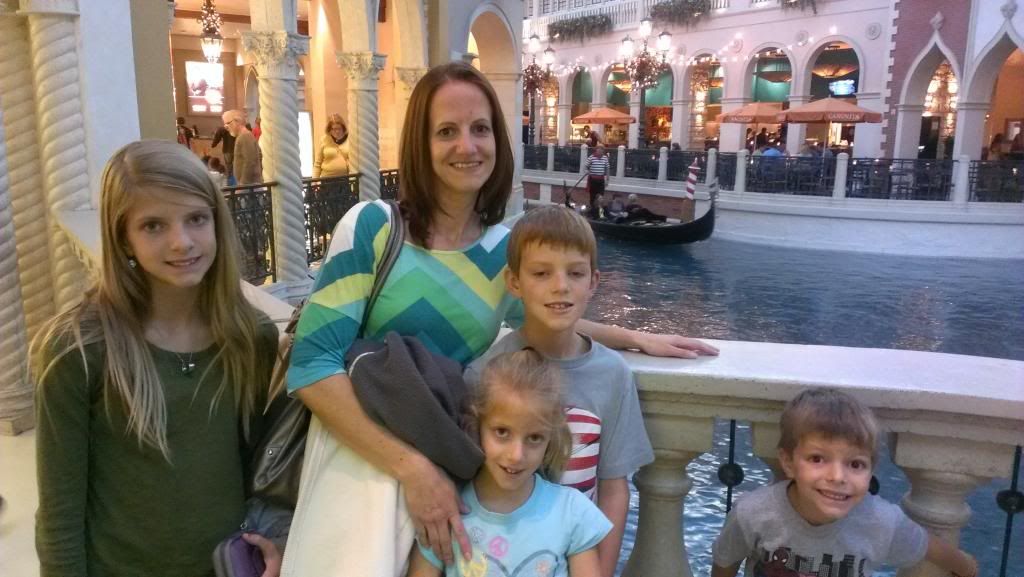 We rode the monorail back to our car. Everyone looks so happy because they didn't have to walk!
After a very filling lunch buffet at Palace Station, we drove to the Bellagio to watch the water show.
Then we went inside to admire the Ents in their conservatory. One of them even talked slow and deep, just like in "Lord of the Rings".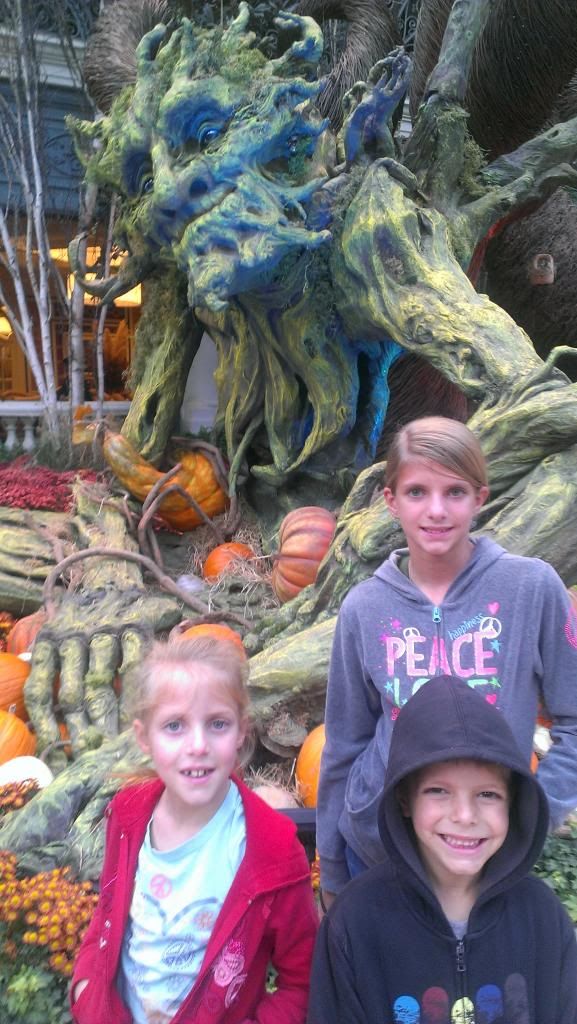 The ceiling was amazing, too.
I don't think I need to visit the strip ever again. Parts of it feel like you've descended into the devil's lair and the things that are fun to see aren't amazing enough to make it worth it. We'll just check that one off our list.
Thanksgiving Day we enjoyed a delicious meal prepared by Patty. I had yams with apples for the first time. It was actually good. I wasn't brave enough to try the bites with the sage leaves though. We also had broccolini for the first...and last...time. They were seasoned nicely but the stalks were impossible to chew. Cameron almost choked to death. Death by broccolini on Thanksgiving Day would be an unfortunate way to go. The banana cream, ice cream, cherry and apple pies were delicious!
After stuffing ourselves, Patty and I headed to Toys 'R Us at 3:30 to stand in line until they opened at 5p.m. We were among the first 25 people in line. I got everything I wanted and walked right up to a register to pay. It was a very pleasant experience. Justin was at Walmart in case I didn't get what we wanted at Toys 'R Us. It was a very different situation at that awful store. There were cops stationed throughout the store to keep the riffraff that shops there in line. He was relieved when I called to tell him I got what we wanted and he could go home. May have saved his life.
Patty and I went to Target at 8p.m. That was a bit more crazy. The line to pay went the whole length of the store, weaving up and down every aisle. Patty stayed and paid for all of our stuff while I headed to Kohls. They were out of what we wanted but I was able to order a couple things at the kiosk...free shipping and I didn't have to stand in another horribly long line. And that concluded our Black Friday shopping adventures. I placed one more order on Amazon last night so I am mostly done. I just have to visit Hobby Lobby every week to buy Rainbow Loom rubber bands. Unlike Michael's, they let you use a coupon on the rubber bands. I walk in and out of the store three times every time I go. Their one-coupon-per-visit policy is rather inconvenient. One of these times a cashier is going to see me go to another register and report me.
The cousins had fun playing together and staying up late giggling. Well, maybe not the boys so much. They had fun but took breaks from playing school and other girly stuff. And they don't giggle.
We came home Friday and avoided the traffic heading out of Vegas. Yesterday we decorated our house for Christmas. We also made our own Thanksgiving dinner because I love having leftovers. Besides, it's one of the two times a year we eat off our china and drink out of fancy glasses.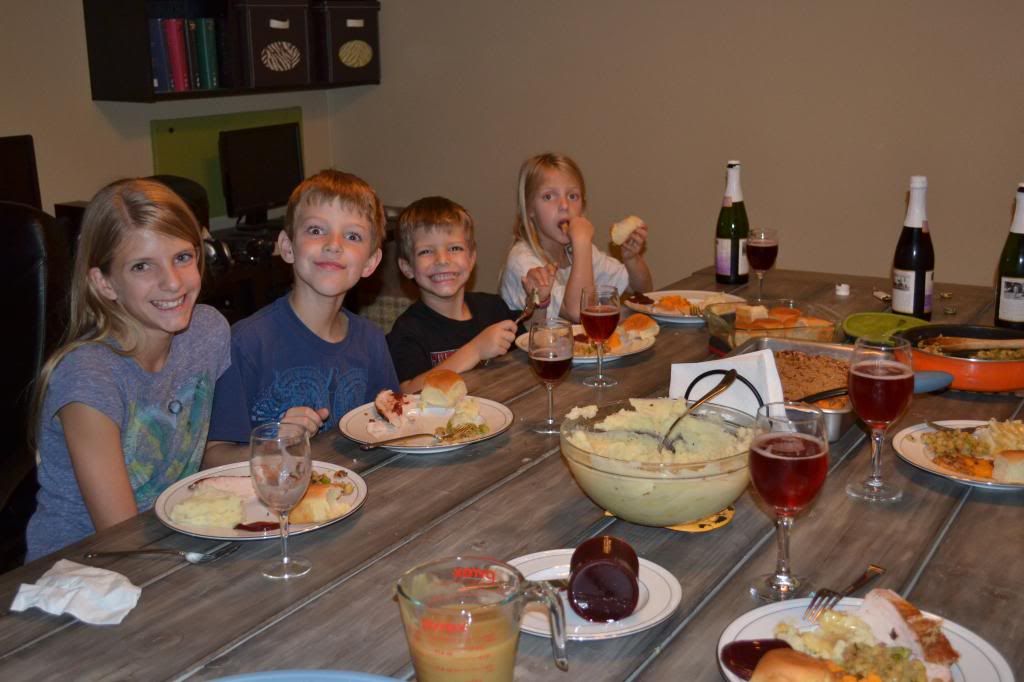 Tomorrow it's back to the routine. I really enjoyed the break from driving and homework and all the other real-life stuff that you can't avoid forever but sometimes wish you could. At least we have Christmas break to look forward to in three weeks!